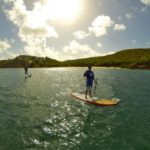 The Anguila Watersports Paddleboard Tour Guides will take you to lagoons and beaches that you maybe wouldn't otherwise find!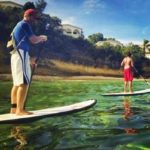 Rent SUP boards and explore Anguilla's beaches and beautiful shoreline on your own! All ages and experience levels welcome, so enjoy with your whole family. Book your SUP Rentals
The coastline of Anguilla has some of the most beautiful waters and beaches in the world. What better way to experience the pristine and stunning lagoons and beaches here than on a stand up paddleboard? Come explore with the whole family! The great thing about Paddleboarding is that everyone can participate, at all ages and experience levels. Not only are you enjoying the incredible ocean view, but also Paddleboarding is an excellent work out which is great for your core, arms and legs.
Paddleboarding will enrich your vacation and leave you with memories that will last a lifetime. Rent your own Paddleboard and do your own exploring, hone your skills by signing up for lessons or try one of our tours! Our certified Stand Up Paddleboard pros will help teach you about paddle boarding technique, balance and building your core strength. Our guided tours will take you to sights you wouldn't have seen otherwise, and our down winder tours will take you right into a stunning Anguilla sunset!
Judd Burdon and his team started Paddleboarding in Anguilla and have years of experience paddleboarding in both calm waters or in 10 ft. waves! So no matter what you're looking for, a calm relaxing paddle or something more adventurous, Anguilla Watersports has got you covered. Anguilla Watersports will even take care of your transportation to and from your hotel.