Kayak Tours
Quick Links
» Kayak Tour Rates » Book Your Kayak Tour » The Ultimate Excursion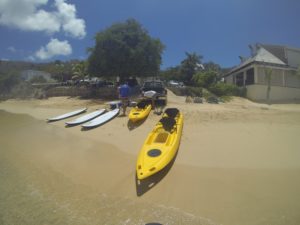 Anguilla´s waters are world renowned with pristine blue warm waters year-around. There is no better way to experience its beauty than from the seat of a kayak. From guided adventures and downwinders suitable for all skill levels, we will help you realize your vacation dreams on the water.
Guided kayak tours are a very popular category of activities enjoyed by island visitors. Kayaking in Anguilla provides so much in the way of excitement, outdoor adventure, marine exploration and overall healthy exercise. The experience you have when you are sitting atop a kayak in the water is very different than the experience you have when you are on a boat. When you are close enough to the surface of the water to see down into the coral gardens beneath you, close enough to hear the splash of a flying fish landing behind you, witnessing turtle and stingrays through the observation window of your kayak, then you are close enough to realize the unique perspective you truly have while kayaking in Anguilla.
Anguilla Watersports guided Kayak tours can accommodate up to 5 double seated Kayaks with see through observation windows catering to all levels of kayakers from beginners to advanced paddlers and age groups. Expert guides keep a relaxed pace so visitors can still enjoy the view while riding along the Anguilla's beautiful shorelines. Also possible are guided tours with both Kayaks and Stand Up Paddleboards.
Kayak Tour Rates and Packages
Price is per person and includes water, transportation, tour guide, kayak and paddle. Life vests are available at a daily rate of 10$ USD
Full payment is collected at booking to reserve your tour. The tours are in high demand, so we suggest booking ahead of your arrival to Anguilla.
Cancellation Policy: if a booking is not cancelled 72 hours before start time the customer is liable to pay full amount.
In the event of thunderstorms or rough chop, we will make every effort to accommodate you on the next available clear weather day. There is no charge for weather-related rescheduling.
Kayak Tour Rates
$125 Per Person for a 1.5 Hour Kayak Tour

Please download and fill out the General Waiver Form signed by each participant and send it to us via email bookings@anguillawatersports.com prior arrival.
Bookings
Booking Request Form
Let us know when you are looking to book and we will get back to you.
"*" indicates required fields